Main 8' x 10' Chindi Cotton Oval Rug Content Container
Main 8' x 10' Chindi Cotton Oval Rug photo container
Main 8' x 10' Chindi Cotton Oval Rug photo
Supporting alternative photos for 8' x 10' Chindi Cotton Oval Rug
Alternative 8' x 10' Chindi Cotton Oval Rug photo 1
Alternative 8' x 10' Chindi Cotton Oval Rug photo 2
Alternative 8' x 10' Chindi Cotton Oval Rug photo 3
Alternative 8' x 10' Chindi Cotton Oval Rug photo 4
Alternative 8' x 10' Chindi Cotton Oval Rug photo 5
Alternative 8' x 10' Chindi Cotton Oval Rug photo 6
Alternative 8' x 10' Chindi Cotton Oval Rug photo 7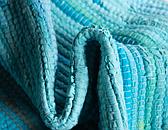 Alternative 8' x 10' Chindi Cotton Oval Rug photo 8
Alternative 8' x 10' Chindi Cotton Oval Rug photo 9
Alternative 8' x 10' Chindi Cotton Oval Rug photo 10
Supporting alternative photos for 8' x 10' Chindi Cotton Oval Rug
Alternative 8' x 10' Chindi Cotton Oval Rug photo 11
8' x 10' Chindi Cotton Oval Rug Description Container
8' x 10' Chindi Cotton Oval Rug Product Description
8' x 10' Chindi Cotton Oval Rug
8' x 10' Chindi Cotton Oval Rug Color Variations Container
8' x 10' Chindi Cotton Oval Rug Color Variations
8' x 10' Chindi Cotton Oval Rug Sizes and Shapes Available Container
Sizes and Shapes Available for 8' x 10' Chindi Cotton Oval Rug
8' x 10' Chindi Cotton Oval Rug Pricing & Shipping Container
8' x 10' Chindi Cotton Oval Rug Pricing & Shipping Content
Made in India, this Chindi Cotton Collection rug is Hand Made of Cotton and has 150 knots per square inch. This rug is brand new.
Colours found in this rug include:Light Blue, Ivory, Light Green, Grey. The primary colour is Light Blue.
This rug is 1/2" thick. This rug is in excellent condition. It is brand new.
The measurements for this rug are: 8 feet 0 inches wide by 10 feet 0 inches long.
This rug's SKU # is 33145280
8' x 10' Chindi Cotton Oval Rug Video Container
Container of Similar Items to 8' x 10' Chindi Cotton Oval Rug
8' x 10' Chindi Cotton Oval Rug Review Container
8' x 10' Chindi Cotton Oval Rug Review
8' x 10' Chindi Cotton Oval Rug Ask a Question Container
Ask a Question about 8' x 10' Chindi Cotton Oval Rug
More Shapes and Sizes to 8' x 10' Chindi Cotton Oval Rug Container